Canada Super Visa
The "Super Visa" is a distinctive kind of visa issued by the Canadian government and allows parents and grandparents super visa in Canada as citizens or permanent residents to visit and stay for a protracted amount of time. It is a numerous-entry visa that enables qualified people to see their families without renewing their visas and enter Canada for a maximum of two years at a time. Upon admission into Canada, a border services officer will decide how long your stay will be. One requirement for receiving a super visa is having health insurance. Each condition must be met for your ability.
Who can apply c

anada super visa
Eligibility super visa requirements for parents
You need to order for a Super Visa to be eligible: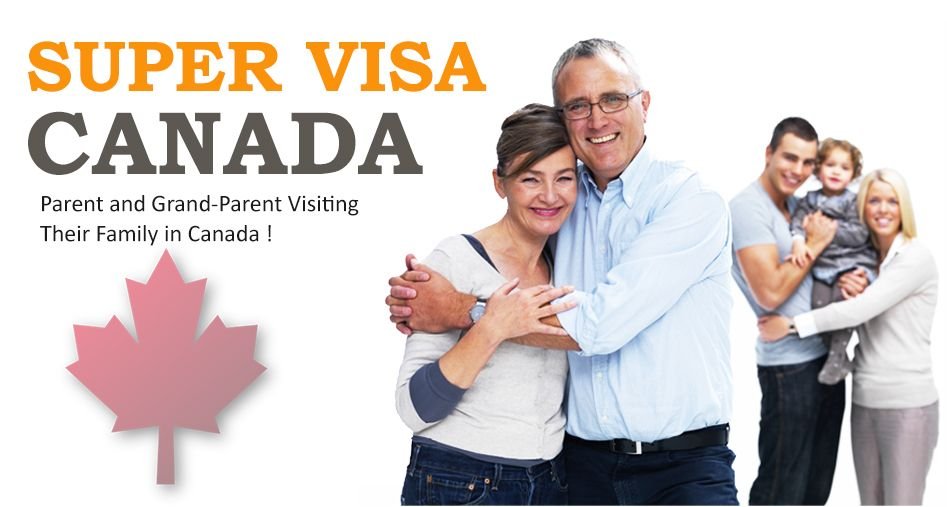 Be a grandparent,

parent immigration Canada

, or both of a Canadian citizen or permanent resident.

Having a letter requesting you to visit Canada, signed by your child or grandchild.

A commitment to offer financial support throughout your stay, a list of the persons living in this person's home and number

A copy of their citizenship or proof of permanent residency

Possess documentation of private health insurance from a

Canadian insurance

provider. This health insurance must:

Be compensated in whole or through installments with a down payment.

Be valid for at least a year following the day you intend to enter Canada.

Pay for your medical bills, inpatient stays, and round-trip transportation.

At least $100,000 in emergency coverage
Note: For each admission into Canada, private health insurance must be current. When you enter Canada, be prepared to produce your evidence of paid insurance to a border services official if they request to view it.
You should also
Submit a

super-visa online application

from outside of Canada

Print your visa outside of Canada

Be granted entry to Canada

A medical examination for immigration

Meet additional requirements
Financial support
The child or grandchild inviting you must prove their home earns at least the required amount. Examples of documents that can be used as proof of finances include the ones listed below:
Notice of Assessment (NOA) or T4/T1 for the most recent tax year

Employment Insurance Benefit statements

A letter of employment that details the salary, job position, duties, and commencement date.

Pay stubs

Bank statements
Other circumstances that should be considered
They consider several variables before determining whether you may enter Canada. You must be a legitimate foreign visitor to Canada who plans to depart at the end of their stay. Then consider the following when evaluating your application:
Your ties to your country of origin

What brought you here exactly

your finances and family

The country's general political and economic stability
How to apply
1. Prepare your documents.
You require the following before applying for a super visa. A letter of invitation from your Canadian citizen or permanent resident child or grandchild that states:
a promise to pay for your visit during that time frame

The names and numbers of living in a person's home

an official copy of the applicant's citizenship or permanent residency card in Canada
Proof that the home of your child or grandchild earns at least the minimum amount required; examples include:
Notice of Assessment

(NOA)

Employment Insurance Benefit statements

Employment letter stating pay, title, duties, and the date of hire

Pay stubs

Bank statements
Evidence of medical insurance payment from a Canadian insurance provider, that is:
Valid for at least a year starting on the entry date

$100,000 or more in emergency coverage

A document demonstrating that you have undergone an immigration medical examination
2. Make a super visa application.
You must apply online through the IRCC Portal while travelling outside Canada for a super visa.
How to apply the IRCC Portal's online application process
To apply online, adhere to these procedures.
1. Make an Appointment
On the home page, click on the appointment button to get a consultant from our professional team who can assist you in obtaining your visa.
2. Online form completion and document submission are required.
After responding to all the questions, you'll receive a list of the documents you must upload. These are the supporting documents for your visa application.
3. Pay with a credit card
You can use any Visa credit card or prepaid card to make payments.
The steps involved in applying for a super visa
Then, examine your application to make sure it contains all the required documentation. If your application is insufficient, return it unprocessed. It might also require you to:
Attend a meeting with our representatives in your country.

To send further details

A medical checkup

Take the police academy course
We can provide you with our best assistance and walk you through any of these, or even you can contact us. Furthermore, frequently reply to inquiries within a few weeks. Processing times vary depending on the visa office and whether you need to take further steps (like those mentioned above). As a result, we will give you your passport and other original documents after processing your application. They will not return original bank statements or any other papers that they find to be fraudulent. If your application is approved, a visa stamp will be placed on your passport. Then, we will issue a letter you can use as proof of citizenship with a border officer. When you arrive in Canada at that time, you do not need a visa from the country. They will also provide a rationale if they reject your application. In addition to assisting you with Family Class Sponsorships, Khanna immigration services will assist you every step of the way where there is no delay in your visa applicationc