The Federal Skilled Trades Program (FSTP) is one of the economic immigration programs administered by the Government of Canada. It indicated to encourage talented craftspeople seeking permanent residency in Canada. The Express Entry system, a fast track for qualified foreign workers to immigrate to Canada, includes the program.
The FSTP is designed for people with experience in specific skilled trades, as defined by the National Occupational Classification (NOC). Electricians, welders, plumbers, carpenters, heavy equipment operators, and industrial mechanics are among the qualified trades divided into major and minor groupings.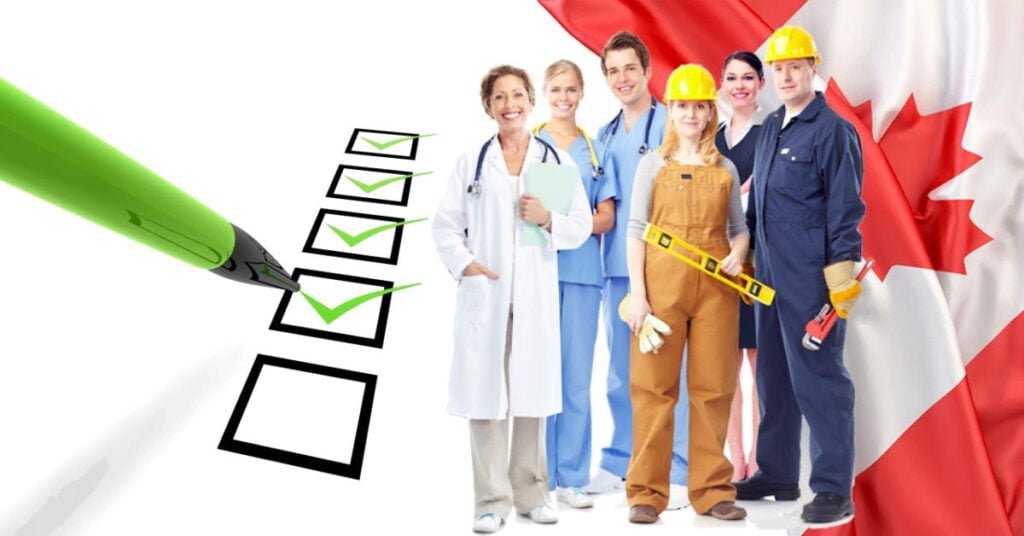 Federal Skilled Trades Program Eligibility Requirements
Applicants for the best Federal Skilled Trades Program in Canada must meet the following requirements:
Within the last five years, you must have at least two years of full-time work experience (or comparable part-time experience) in a skilled trade.

Possess a valid one-year full-time job offer OR a certificate of qualification in a professional business issued by a Canadian provincial or territory authority.

Language fluency in either English or French is required.

They have enough money to maintain themselves and their family members during their first several months in Canada.
Skilled Trades Designations in the Federal Skilled Trades Program
The Federal Skilled Trades Program is for those recognized under the NOC system. Some of the eligible trades include, but are not limited to:
| | |
| --- | --- |
| Major Group 72 | industrial, electrical and construction trades |
| Major Group 73 | maintenance and equipment operation trades |
| Major Group 82 | supervisors and technical jobs in natural resources, agriculture and related production |
| Major Group 92 | processing, manufacturing and utility supervisors and central control operators |
| Minor Group 6320 | cook, butchers and bakers |
| Minor Group 62200 | chefs |
You must demonstrate that you completed the duties outlined in the NOC's lead statement of the occupational description. It comprises all the fundamental tasks and most of the core duties listed. We will reject your application if you do not explain that your experience matches the description in the NOC. Work experience is only considered once qualified to practice the occupation independently. Furthermore, you can check out or learn more about Canada PR eligibility online.
CRS (Comprehensive Ranking System) with Express Entry
The FSTP is a component of the Express Entry system, a points-based system for managing applications for permanent residency in Canada. The Comprehensive Ranking System (CRS) rates candidates, considering age, education, work experience, language proficiency, and flexibility.
The FSTP Application Process
The following steps are involved in the FSTP application process:
Create an online Express Entry profile and join the candidate pool.

Fill out the profile accurately with information about your professional experience, education, language skills, and other relevant factors.

Candidates with the highest CRS scores can apply for permanent residency through the Canadian government's traditional drawings.

If chosen, applicants will get an Invitation to Apply (ITA) and can complete a permanent residency application through the Federal Skilled Trades Program.
Education
The Federal Skilled Trades Program has no educational requirements. However, if you wish to enhance your rank in the Express Entry pool, there are two options. If you went to school in Canada, you could earn points towards a Canadian certificate, diploma, or degree:
Secondary Institution (high school) 
Post-Secondary Institution 
You can get points for a completed educational credential if you have an Educational Credential Assessment (ECA) report for immigration purposes from a designated organization demonstrating that your education is equivalent to a Canadian.
Language ability
It would help if you had a minimum Canadian Language Benchmark 5 score for speaking and listening and a minimum score of Canadian Language Benchmark 4 for reading and writing. You must complete approved language tests for writing, reading, listening, and speaking and input the test results in your Express Entry profile. Your language tests are valid for two years following the test result date. They must be current at the time you seek permanent residency.
How does the immigration procedure operate with the FSTP?
IRCC manages skilled worker applications for three economic class skilled worker immigration programs, including the FSTP, using Express Entry. You must first check that you meet the eligibility requirements for the FSTP, the Federal Skilled Worker Program (FSWP) or the Canadian Experience Class (CEC). If you meet the FSTP eligibility requirements, you can create an Express Entry profile on the IRCC website. Your CRS score will determine your age, education, FSTP language requirement skills, work experience, and Canadian work and study experience. IRCC organizes Express Entry lotteries every two weeks, asking the candidates with the highest CRS scores to apply for permanent residence. The IRCC will notify you of the deadline for submitting your permanent residency application. IRCC will process within six months your application. Here is a step-by-step guide to pursuing immigration to Canada via the FSTP:
Step 1: Determine whether you meet the FSTP eligibility standards using the Canada Visa's free eligibility tool.
Step 2: If you qualify for the FSTP Canada or any Express Entry program, you must take an officially recognized language test in either English or French. Furthermore, if you have attended a study abroad program, you may acquire an Educational Credential Assessment to claim additional FSTP CRS points. More information is available on Canada Visa's Express Entry website.
Step 3: Create and submit your Express Entry profile for free on the official website of IRCC (Immigration, Refugees, and Citizenship Canada).
Step 4: Keep an eye on the IRCC Express Entry drawings to see if you have received an Invitation to Apply (ITA) for FSTP permanent residency in Canada. They usually hold these draws every two weeks.
Admissibility
You must be admissible to Canada.
Proof of funds
Unless you can legally work in Canada and have a legitimate job offer from a Canadian company with a work visa, you must demonstrate that you have enough money to settle in Canada for yourself and your family.
Get assessed by the province or territory
You'll likely need to travel to the area or part considered for your trade. You may also require experience and training from a Canadian business. To learn more about becoming assessed, check the website of the transaction's governing organization for the province/territory where you want to reside and work. The procedure varies based on where you wish to go.
Each website has further information on certificates of work in that province or territory in a specific skilled trade and what you need to do to obtain one. If a province or territory does not govern your business, it is operated or controlled by the federal government. Visit the Canadian Information Center for International Credentials website to determine who regulates your trade.
What are the advantages of FSTP Canada?
The FSTP is part of a significant initiative by the federal and provincial governments to bring more skilled trade employees to Canada to solve workforce shortages in trade occupations. Because Canada has an older population and a low birth rate, it increasingly relies on immigration to support its labour force and economic growth. Skilled crafts are desperately needed.
Immigrating to Canada through the FSTP has various advantages. Successful FSTP Canada candidates can receive FSTP permanent residency within six months under Express Entry. Because they are not obliged to establish their level of education, FSTP candidates may have lower FSTP CRS points than other candidates in the FSTP Express Entry pool.
IRCC, on the other hand, organizes program-specific Express Entry lotteries on occasion, inviting exclusively FSTP candidates. Entering the FSTP Express Entry pool boosts your chances of acquiring permanent residency since you can earn a provincial nomination, almost guaranteeing your success in Express Entry.
A provincial nomination is worth 600 FSTP CRS points, which implies you will almost certainly receive a permanent residency invitation through Express Entry. You are well-positioned to succeed in the Canadian labour market if you are an FSTP applicant with Canadian work experience.
The IRCC offers a comprehensive ranking system highlighting individuals who have worked and studied in Canada. According to research conducted by Canadian governments and academics, having Canadian experience is a significant benefit when applying for permanent residence.
When you earn permanent residence under the FSTP, combining your knowledge, connections, experience, and abilities gained while working in Canada will give you a competitive advantage in the labour market. Check our websites to get expert guidance to ensure you have the most up-to-date information about FSWP work experience.
Following steps
Prepare all of your documents/paperwork. Then you can submit your profile.